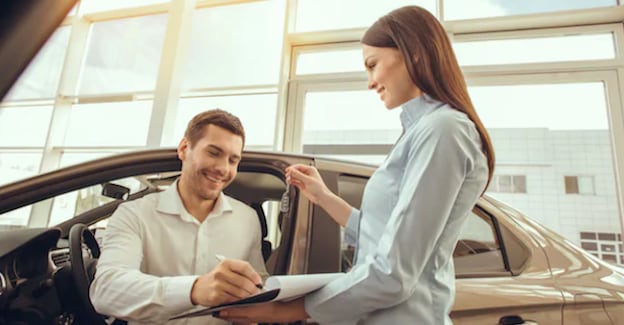 Buying your next car is an exciting time, and we're excited for you! Nothing feels better than sliding behind the wheel of your newly-purchased vehicle and driving off into the sunset. But before you can put the pedal to the metal, you'll need to get past the paperwork process. Our used car and truck dealership serving Syracuse and Liverpool is here to tell you the documents you need to bring when buying a car in New York.
Driver's License
You'll need a valid driver's license in order to purchase (and drive off in) your car. Make sure it isn't expired and is present when you buy your vehicle.
Proof of Insurance
Before you get behind the wheel, you'll want to be insured. Car insurance is required in most states, and comes in handy. When you're purchasing your next vehicle, call up your insurance agent and prepare to remove your old vehicle and add your next vehicle to your policy. Bring your current proof of insurance car to the dealership as well.
Pay Stubs
If you're planning on applying for a car loan, the dealership may ask for proof of employment. You'll want to bring some recent pay stubs with you.
Credit History & Score
Be sure to check your credit score and bring along a copy when you purchase your vehicle. Check for unpaid bills or outstanding expenses and resolve them.
Discount Information
If your credit card company or manufacturer is providing you with a discount, be sure to bring the necessary information with you so you don't miss out! Read the offer slowly and carefully to ensure you fully understand the discount.
References
If you don't have the best credit and you're applying for a loan, it's best to bring a list of references of people who don't live with you. Have the business addresses and contact information of those references on hand so they can vouch for you!
Buy Your Next Car At Burdick Warehouse Serving Syracuse
Once you've gathered all of the necessary paperwork, you're ready to purchase your next vehicle! If you'd like to take a look at our inventory, don't hesitate to contact us at our Syracuse area used car and truck dealership today. We can't wait to get you behind the wheel!